Smiler 1.095 (Android)
Overview: Smiler is a simple app for the comfortable viewing of internet quote databases. Russian, English, French, Spanish, German and other languages are supported.

Requirements: Android Device OS 2.2 and up

Price: $0.99

Download:

Smiler is designed to while away the time in a queue, when travelling by transport, sitting in a boring lecture or on a trip.
Smiler saves your favourite quotes so you can always easily find them and share them with your friends by e-mail, sms, your Instant Messaging client and, quite naturally, by social networks (Google+, Twitter, Facebook, etc.). You can also export them to a text file.
Smiler remembers the last visited page in order to quickly access it and continue your reading.
Smiler can load a specific number of new pages from your favourite quotation databases for instant reading without Internet access (in offline mode).
Smiler can be set to get periodic updates of your quotes databases and show the appearance of the new quotes.
At the moment Smiler can get quotes of such resources as bash.org , qdb.us, fmylife.com,learnfrommyfail.failblog.org, danstonchat.com, ibash.de, german-bash.org,smsvongesternnacht.de, bash.org.ru, ibash.org.ru, ithappens.ru, zadolba.li, ukrbash.org,bash.org.by, killmepls.ru (QDB, LMF, FML, AMK, XKCDB, FMS, Hatepost, IMMD, MMT, TFLN, VDM, DTC, PEBKAC, VMV , KMP, MLA, TFM, TSM, MLIN) and more ☺ (check the full list of resources).
If your favourite quotes database is not in the resource list, just simply send us a link to it and it will be added to our database asap. You should not update the program yourself, as it is done automatically.
Import favorites from Bogr:

Bogr > Favorites > Export to XML > Smiler > Favorites > Import from Bogr
About permissions:

RECEIVE_BOOT_COMPLETED – service autostart

ACCESS_NETWORK_STATE, INTERNET – www access

WAKE_LOCK – lock backlight

WRITE_EXTERNAL_STORAGE – backup, export

READ_LOGS – for FC debug (ACRA)
What's New in Smiler version:

1.094

* ui fix

* some bugs and FC fix

1.093

+ perashki.ru support

+ muzey-factov.ru support

+ "Rate Us" in Feedback options

1.092

no changes

just reload the file to market

1.091

+ zadolba.li/random support

* offline source list order fix

* save and restore quotes list position fixed

* change position some options items

1.090

* improved UI speed

+ habraquotes.ru support

+ muzey-factov.ru

+ wargag.ru quotes support

1.088

FIX empty source list bug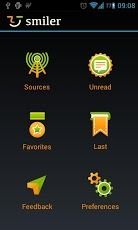 Download Instructions: Smiler 1.095 (Android)
http://ul.to/rlzzgzrt

http://extabit.com/file/29g2elen92hil/
The post Smiler 1.095 (Android) appeared first on Megandroids.
You are now Read Android Apps | Free | Apk Files |Smiler 1.095 (Android) And The Link for this article is http://yourandroidapplications.blogspot.com/2013/03/android-apps-free-apk-files-smiler-1095.html
Enjoy The Article Android Apps | Free | Apk Files |Smiler 1.095 (Android).